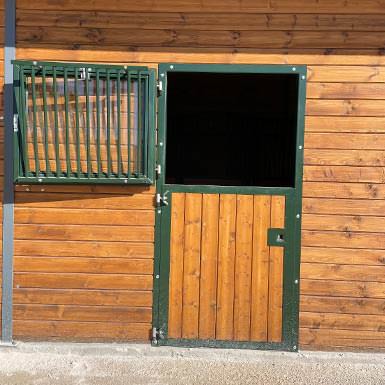 Equiapara has a wide range of door boxes, windows and gates for your stables.
Our range of wooden doors, "Z" type are extremely strong and long lasting. They can be used for stall doors, tack doors or storage doors. They are supplied with adjustable hinges and a safety foot lock. The "Z" can be placed indoors or outdoors.
Exterior doors from Corton include a very strong frame. The basic version is supplied with synthetic boards 28mm. The way the doors are built protects the rain from coming inside the box.
Doors can be supplied with boards on the bottom and the top, or with safety glass + bars on the top window.
Classical doors with an Arch are also available. Doors can be powder coated with the colour you decide or supplied with bamboo boards.
We also have a range of sliding doors or hanging doors for the entrance of your barn.